A basket full of eggstremely amazing marketing campaigns
This year, in the lockdown blues, we bring you our list of top five creative, effective, eggs-cellent marketing campaigns to get you into that spring spirit of Easter and the little bit of required inspiration to awaken your inner innovative bunny. These examples should get your creative juices flowing and give you some ideas on what your business can do next year! 
So, are you up for it? Let's follow the Easter Bunny and get the egg rolling. 
'#EggsEverywhere' – Cadbury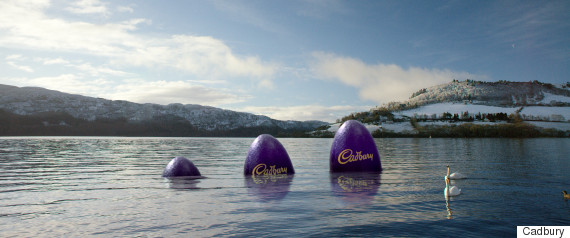 Cadbury teased the Loch Ness mystery in its 2016 Easter Egg Campaign by dropping three large eggs into the Loch Ness in the Scottish Highlands, making it look like the Loch Ness Monster is slowly emerging from beneath the surface. 
Playing on the myth of the Loch Ness Monster, Cadbury's marketing stunt created quite the stir not only in the surrounding area but also online. The stunt by creative agency Carat is part of the brand's Easter campaign to make Cadbury synonymous with this time of the year. 
Cadbury did this at the start of March in 2016 and followed it up with an inbound marketing campaign. Alongside the TV advert Cadbury used the hashtag #EggsEverywhere to gain momentum on social channels. 
In their TV advert the Easter bunny was a fluffy deliverer of joy who excites families around country in the lead up to the Easter egg hunt weekend by playfully hiding eggs everywhere and by teasing the Loch Ness Mystery, Cadbury was celebrating the playful magic of Easter time and Nessie herself.
'#IfCarlsbergDid' – Carlsberg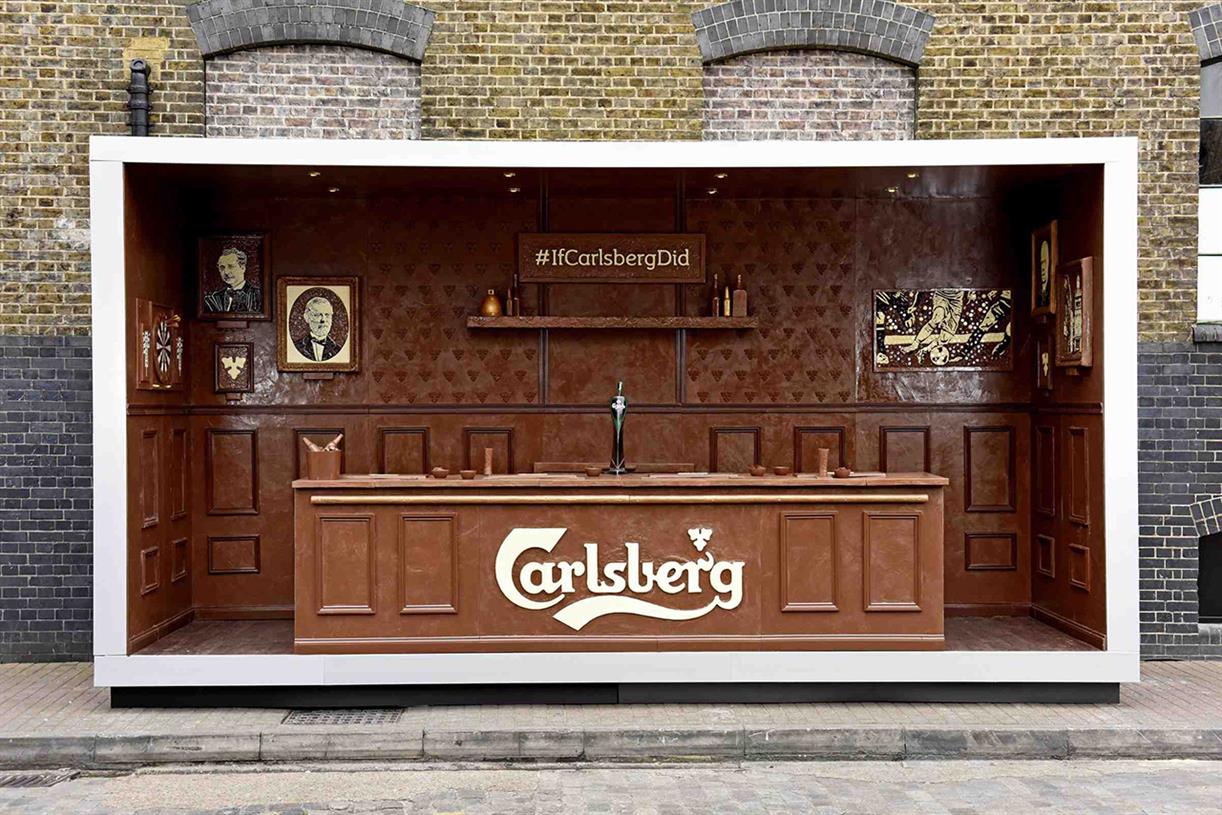 Carlsberg is a world-renowned brewery company that decided to go over-the-top and created an edible office outside the Old Truman Brewery in London's Shoreditch. Disguised as a giant chocolate bar, the five meters wide, three meters high, and two meters deep pop-up bar attracted passers-by to check out its purely chocolate bar stool and fake TV and enjoy a complimentary half-pint of Carlsberg, served in a Carlsberg-engraved milk chocolate glass. 
Chocolate sculptor and food artist Prudence Staite worked with Carlsberg on the design. It took around three months to create the bar, using almost half a tonne of chocolate. Their unique marketing method drew a lot of attention across social and other digital platforms. 
Carlsberg wanted to do something a bit different and knowing that the British public loved beer and chocolate, Carlsberg UK decided to bring them together to create probably the best bar ever.  
The 'If Carlsberg Did Chocolate Bar' is part of the #IfCarlsbergDid campaign for Easter 2016. 
'Flat Pack Easter Bunny' – Ikea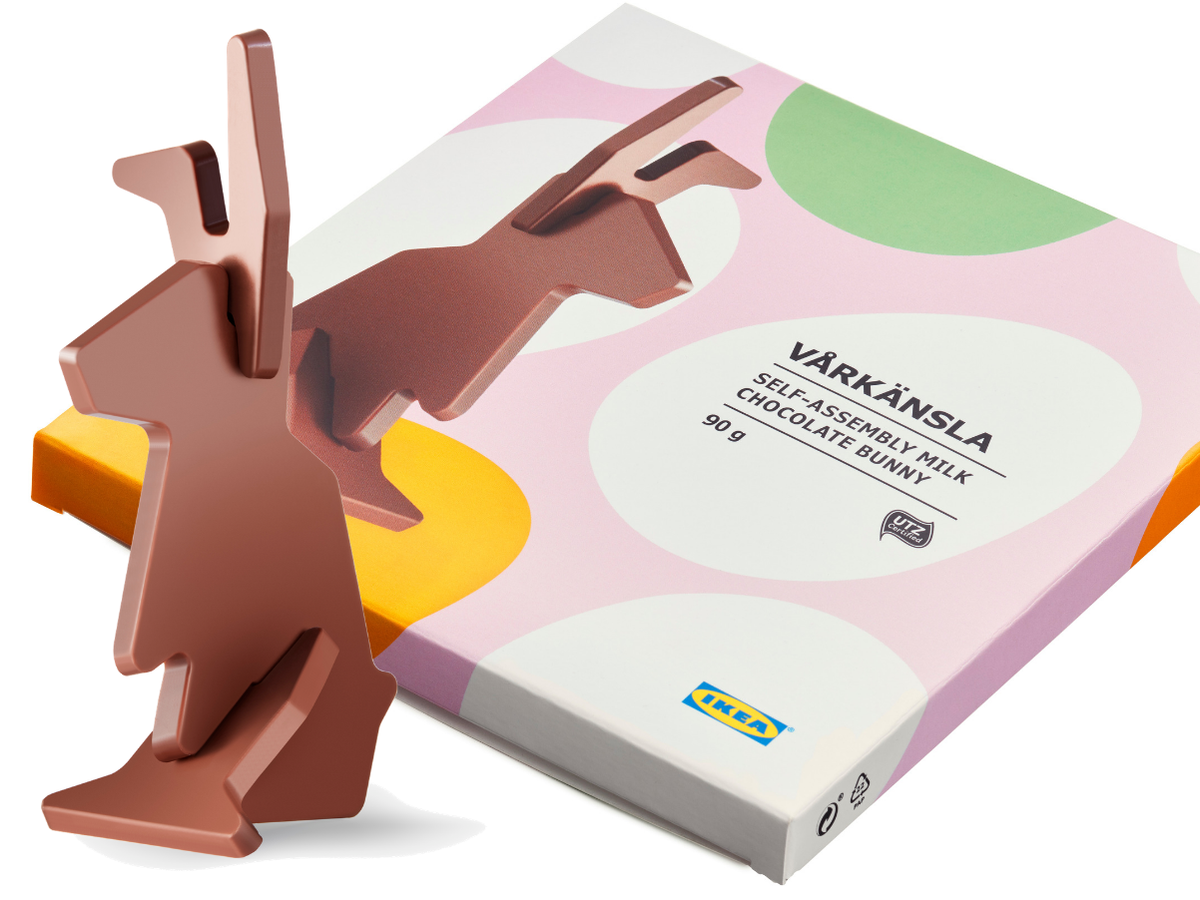 Ikea is famed for its simple, cost-effective self-assembly products – tables, chairs, beds – anything you can think of, Ikea will sell it in flat-pack form. And apparently, IKEA knows what they're famous for – flat packing! They were keen to 'hop' on the Easter bandwagon in 2019, with the introduction of their flat-pack chocolate Easter bunny called Vårkänsla.
A creative play on their self-assembled products, Vårkänsla bunny is a three-piece milk chocolate rabbit made using certified cacao from sustainable sources. When built correctly, it stands up, just like a bunny on its hind legs. It came packaged complete with instructions on how to build the 3D bunny. Not surprisingly for the creative marketing geniuses at Ikea, this campaign is on-brand to a tee, gaining huge attraction on social media and news outlets alike for its humorous creativity, whilst driving consumers straight into stores. It stands out for us, as it is true to brand, creative and fun and compliments what they're known for. For once this is a flat pack, we'd be happy to assemble as this chocolate bunny doesn't require screws, tools or the frenzied translation of Swedish instructions. With just three chocolate pieces, assembly should be the simple part – with the only potential arguments occurring when it's time to decide who gets to eat it. 
'Game of Thrones Dragon Eggs' – Deliveroo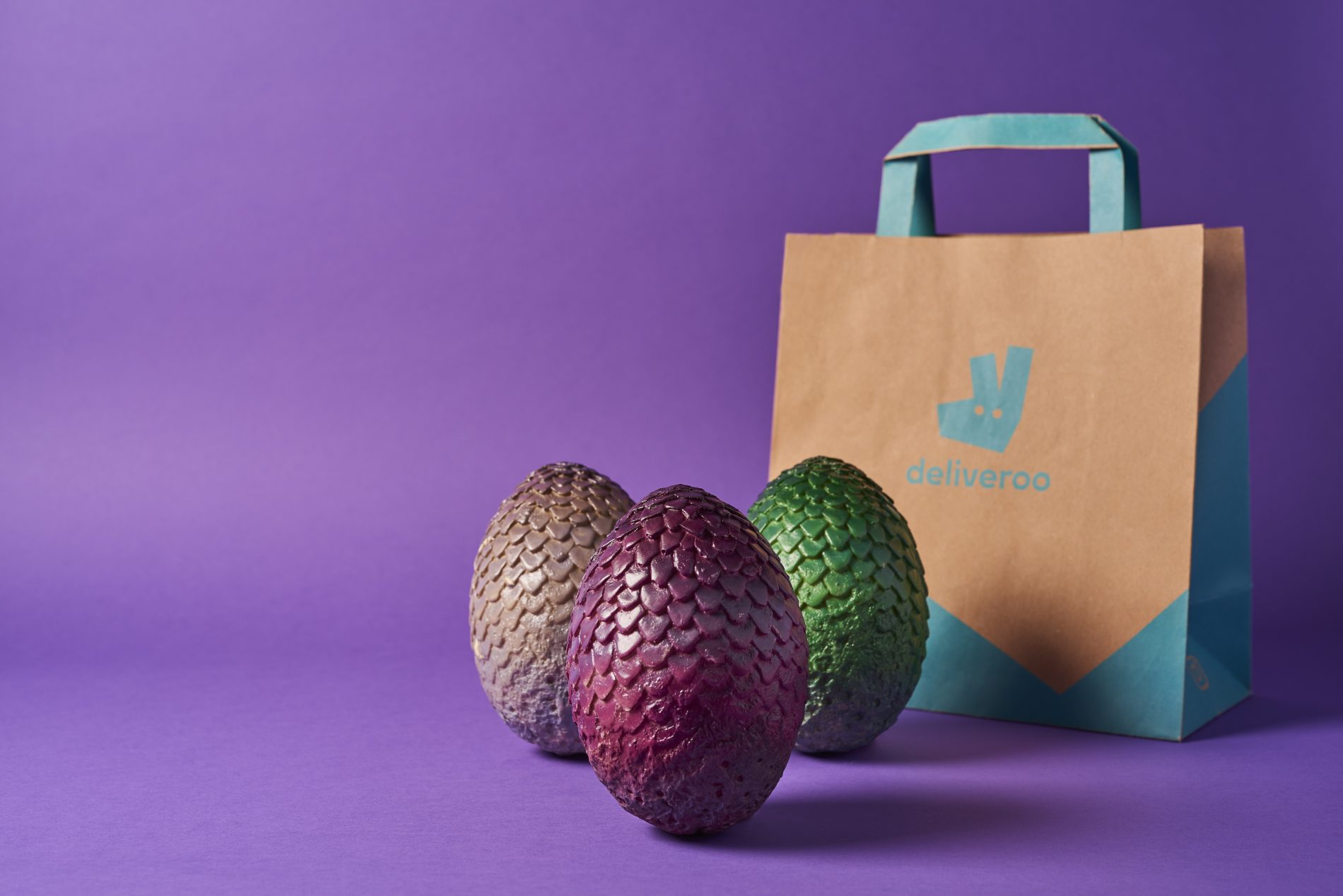 With Easter 2019 falling amidst the final series of Game of Thrones, Deliveroo tapped into the hype by releasing limited edition GoT chocolate dragon eggs. 
Deliveroo knows their target audience – people who watch Game of Thrones will enjoy a night in, in front of the TV, and order their favourite food. The uniqueness of the idea plays to the hype of GoT, and multiple national news sites picked up this story providing great visibility for the brand. 
A clever incentive by Deliveroo's marketing team, the three eggs were purchasable through their online app in a select number of cities, like London, Manchester and Leeds, in the UK. Although they weigh a hefty 1kg and measure 20cm in height, they cost just 80p, in honour of the eighth and final series. They are made from white chocolate and hand painted to get the distinctive dragon egg look.
This GoT Dragon Egg campaign helped to draw in new account sign ups from consumers and fans alike, all trying to get their hands on the limited-edition eggs. 
'Crème Egg EATertainment' – Cadbury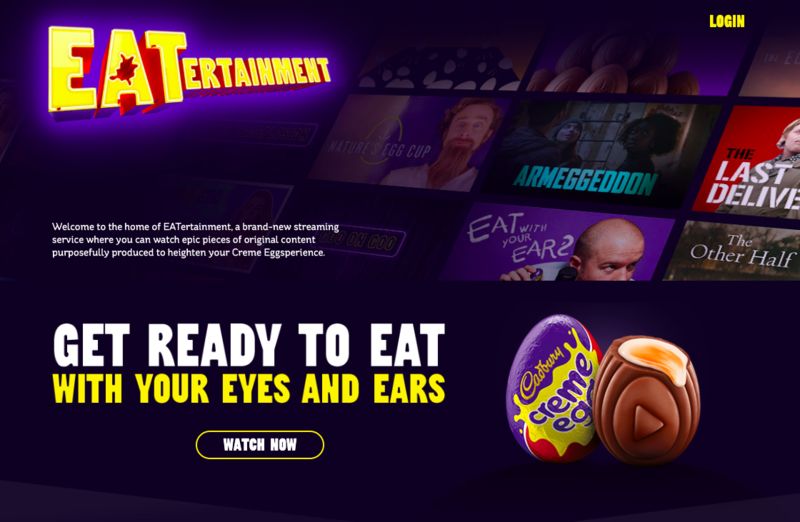 As if Cadbury hadn't already featured before in our list, this year they have developed EATertainment, a free video-on-demand platform bursting with Creme Egg-themed original content. They have also partnered with Amazon to create content that will live on the Amazon Prime Hub, to help further their campaign.  
The Mondelez International brand said the platform will host tongue-in-cheek cinematic short films inspired by the debate around how consumers should eat a Creme Egg. The films have been produced to "heighten" people's Creme Egg eating experience. Their agency, Elvis, stated that "Cadbury Creme Egg is a brand born to entertain, and what better way to act like an entertainment brand than playfully wading into the streaming war?" 
James Hudson, associate creative director at Elvis, added: "Consumers today either want utility or entertainment – and increasingly ignore brands and ads that don't deliver against this. "Cadbury Creme Egg is a brand born to entertain and what better way to act like an entertainment brand than playfully wading into the streaming war? Get ready to eat with your eyes and ears!" 
And did we mention? They're also giving customers the chance to win up to £10,000! 
We hope you enjoyed the overview of some of the winning Easter marketing campaigns that went above and beyond the holidays. We hope you enjoy your Easter Sunday and let us know which one is your favourite marketing campaign. 
Happy Easter! 
ABL Recruitment team